NutritionPro testimonial: how VanOnGo helped to boost in Germany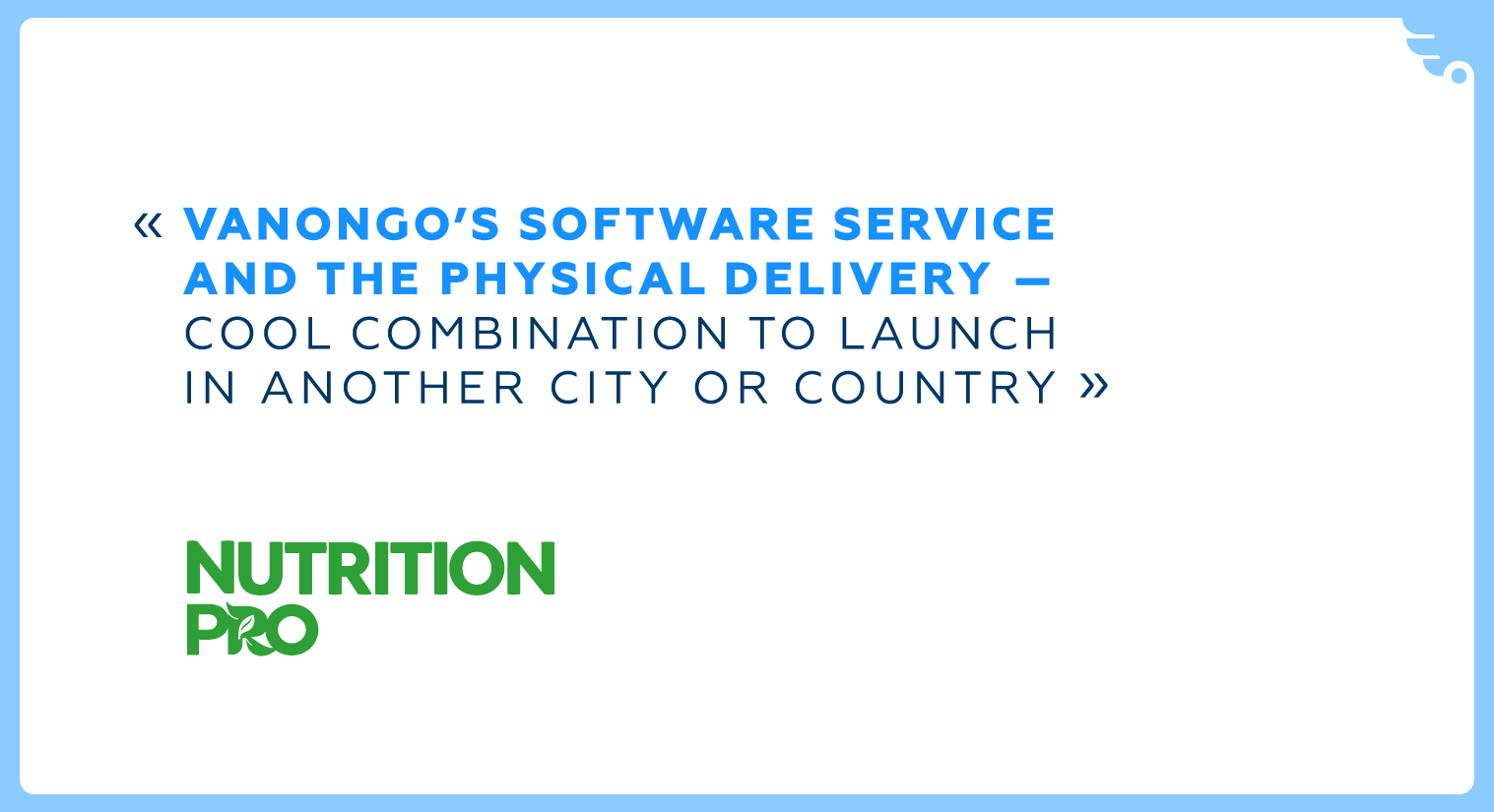 One can talk as much as one wants about the benefits of the product, but the most convincing will always be feedback from real partners who have already assessed our proposal.
About how VanOnGo helped the very ambitious business of NutritionPro, which specializes in balanced food production and distribution, tells the Expansion Manager, Oleg Chubko. The Team of NutritionPro has revolutionized the Prague market since 2019, and we are happy to welcome the product to the center of Bavaria.
How did you hear about us?
Some time ago we were doing expansion in Germany. And we have been looking for a partner who would deliver our products. We considered several big delivery services that need large volumes, and our sales model did not work very well with such companies. And then we found VanOnGo!
How quick and comfortable was it to set up delivery processes and integrate into the system?
It's literally been three weeks since we started discussing the offer. During that time, we seamlessly transitioned from our old delivery to VanOnGo service. All in all, it was easy. Just discussed the usual routine processes and off we went!
And if we had an ERP system ready and if we could connect right away, the implementation process would have taken even less time. And so in terms of software, your main product, everything was easy and simple.
Are you happy with that speed of integration?
Absolutely!
The misconception many start-ups and small companies have is that they think it's challenging to get started, specifically to start the delivery process. Many say they don't have that kind of volume to work with. Or that they need more time to be ready for third-party delivery. But the thing about VanOnGo is that you can even have a couple of deliveries a couple of times a week. It's a pay-as-you-use solution with no subscription or up-front fees.
How many deliveries have we helped you make so far?
With VanOnGo we have already delivered several hundred orders in 4 months. And we are happy with this experience!
What benefits have you gained from working with Vanongo?
We got a good reliable partner with whom we can open other markets. The Supply Chain has been established, which we see as a good competitive advantage. We got good service, technical support is always in touch.
In our case, you covered both the software side and the communication with the client through the app and the physical delivery itself. In combination, it is very cool to launch in another city or country. We need a partner like you - who has global coverage because we have expansion plans. The benefit for us is that we can immediately deploy business in a new location, in a new region.
---
*The delivery experience platform is accessible to all companies: brands that deliver on their own or logistics companies, regardless of the location and size of the fleets. Today, we operate in 7 countries worldwide: Germany, Poland, Romania, Czech Republic, Ukraine, Azerbaijan, Kazakhstan.
VanOnGo is putting more and more effort into revolutionizing the delivery experience in Germany, addressing last mile paint points of consumers, merchants, and couriers. We started our operations in Germany in 2020, launched a few Clients in Berlin, and expanded to Munich while offering OnGo Fleet SaaS solution to every city in Germany.
We are on a mission to convert urban logistics from the most expensive part of the supply chain to the additional revenue generation and business growth function. And at the same time our pay-as-you-use model makes the tech acceptable to all logistics and non-logistics companies regardless of the size.