Three months of Vanongo volunteering: 400 successful cases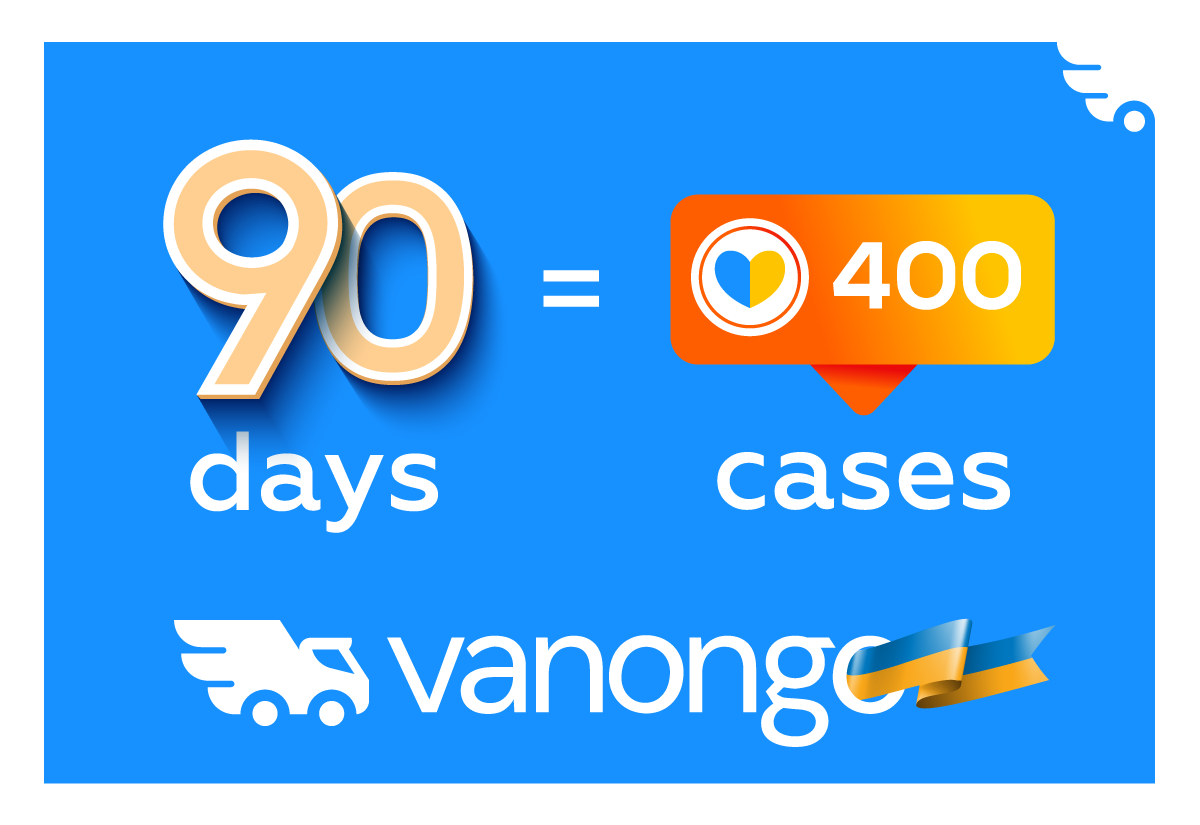 Today, for exactly three months, the Vanongo team has been assisting with the delivery of humanitarian goods. All these 90 days we faced challenges and trials, as we had to adapt to new realities, like all Ukrainians. We succeeded.

As Ukraine was at high risk at the end of 2021, since then the Vanongo team has regularly updated its action plan to ensure business sustainability. So, on the day of the first explosions in Ukraine, there was no immediate need to make any urgent decisions - the Vanongo Rapid Response Team had prepared action plans for various cases.

"We realized that routine "peaceful" transportation was out of time. This became clear literally in the first hours of the war… And so the whole Vanongo team unanimously decided: now we have to help with the delivery of humanitarian goods. We have one goal in mind: to help deliver cargo in Ukraine from point A to point B, which will save the lives of Ukrainians", — said Maryna Chepurna, head of the People and Culture Department.

This is the beginning of Vanongo's volunteer "marathon", which does not end today.

"The first weeks of the war, much of the time of administrative teams was spent on the safety of colleagues and dozens of sudden inquiries from citizens, volunteers and the military. Colleagues had to quickly "retrain" as experts in finding vital products, military ammunition and drivers who agree to travel to hotspots in the country to take away humanitarian goods", — adds Tetiana Mudruk, Requirements Engineer.

"We coordinated delivery, meaning we found cars and drivers to successfully transport tons of cargo, not only in Ukraine but also abroad. Yes, we all had been shocked, yet experienced in logistics: so we continue to do what we have learned for last two years of our company's existence", — recall colleagues from the Service Execution department, — "Of course, the base we already had helped us in these new realities. They know each other, so it wasn't a problem. In a couple of weeks, the base has grown tenfold. We've also liaised with foreign companies: some of them help with warehouses, some with donations, others deliver humanitarian aid".

For those who, like Vanongo, have decided to volunteer to deliver goods, the company grants its technology for free. This offer was used by both individual citizens of Ukraine and several companies.

For the past three months, the Vanongo team has worked with the Office of the President of Ukraine, Kyiv City State Administration and Vitali Klitschko, Armed Forces of Ukraine and the Territorial Defense.
During this time, the company has successfully fulfilled more than 400 cases from Ukrainians and Ukrainian companies, and volunteers.
Namely: helped to buy and deliver products to the front for the Armed Forces and the Armed Forces, find contacts of brave drivers to evacuate people from hot spots, raised funds to deliver pet food to people who sheltered abandoned cats and dogs, delivered hot meals for women and children, found and successfully delivered medicines for the elderly.

"We see the result of our help, and it is inspiring in those moments when it becomes challenging and hopelessness creeps in. We support our state and we want its economy to restart as soon as possible. We want Ukraine to be strong, and despite the fact that Vanongo is an international company, Ukraine will always be our priority", — said Vyacheslav Levchenko, co-founder of Vanongo.